The year 2020 has been relatively bland when it comes to new product releases. Luckily, on 9 July 2020, Canon surprised us with not one, but two new full-frame mirrorless cameras, four new RF lenses and two extenders. If you haven't already, now may be the time to switch from DSLR to mirrorless
A new era has dawned
Mirrorless is the future. Not only are they highly portable, but rival the performance of some of the best full-frame DSLR cameras on the market right now. Industry leaders are predicting a slow death for DSLR as mirrorless cameras become more mature. Before, there were only a handful of mirrorless cameras that met the standards professional photographers demand. Now, particularly with the release of these ultra-fast Canon EOS R full-frame mirrorless cameras, a new era has dawned. With impressive specs, these cameras (and lenses) are serious contenders for becoming many professional photographers' new gear kit staples. So, without further ado, here are the products that will change how photographers see the mirrorless market forever:
Meet the EOS R5 and R6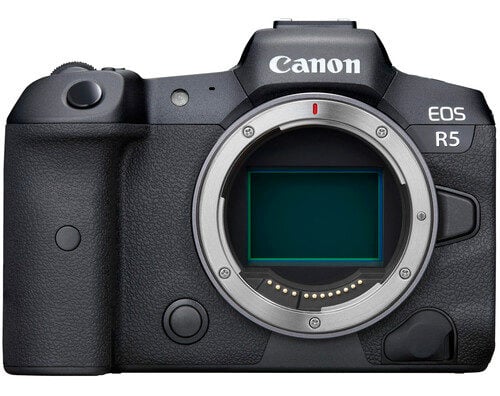 Definitely not a wallflower, the Canon EOS R5 was built to stand out with impressive features. It appeals to the professional image-maker who needs resolution, speed and video capabilities in one full-frame and portable mirrorless camera. More specifically, it is aimed at professional photographers and filmmakers, as well as talented amateurs, who specialise in one area and have a strong creative drive. This groundbreaking new camera will enable them to do new things with photography and shoot in ways they couldn't before.
The EOS R5 features a newly developed 45MP CMOS sensor, which offers 8K raw video recording, 12 fps continuous shooting with a mechanical shutter and up to 20fps with silent shutter, and is the first EOS camera to feature 5-axis sensor-shift image stabilisation. But, let's not forget the larger than life 8K Video! With Internal, uncropped 8K video shooting at up to 29.97fps, and 4K video shooting at up to 119.9fps, in 4:2:2 10-bit (H.265) Canon Log, and Dual Pixel CMOS AF available in all 8K and 4K modes, image-makers worldwide will be able to tell their stories in larger-than-life resolutions.
45MP Full-Frame CMOS Sensor
8K30 Raw & 4K120 10-Bit Internal Video
DIGIC X Image Processor
Sensor-Shift 5-Axis Image Stabilisation
Up To 20fps Electronic Shutter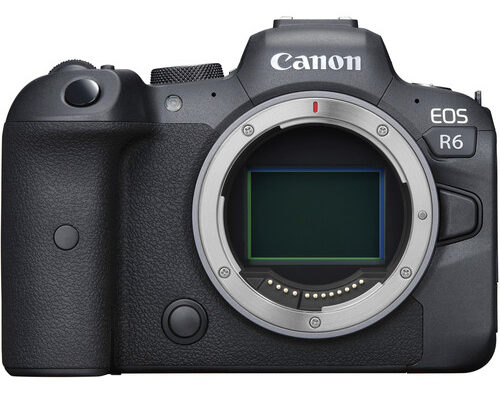 Fall in love with photography all over again! The groundbreaking new Canon EOS R6 will enable professional photographers and filmmakers, as well as talented amateurs to do new things with photography and shoot in ways they couldn't before.
Another full-frame masterpiece, the EOS R6 offers blistering speed, low-light sensitivity, up to 8-stop image stabilisation and 4K60 video will allow you to capture the moment and adds a new dimension to your visual storytelling. The EOS R6 kit includes an RF 24-105mm f/4-7.1 IS STM lens that covers wide-angle to short telephoto focal lengths to benefit working in a wide variety of conditions. A variable maximum aperture also helps to maintain an impressively compact profile to suit everyday shooting needs.
A first for EOS cameras, the R6 incorporates five-axis sensor-shift image stabilisation that compensates for up to an impressive eight stops of camera shake for truly effective compensation of camera shake to suit handheld shooting with slower shutter speeds. This stabilisation system also works in concert with lens-based optical image stabilisation for both native RF lenses and adapted EF lenses.
20MP Full-Frame CMOS Sensor
DIGIC X Image Processor
4K60p and FHD 120p 10-Bit Internal Video
Dual Pixel CMOS AF II
Sensor-Shift 5-Axis Image Stabilisation
Meet the new RF lenses
These four new RF lenses (of which three are prime lenses and one a zoom lens) expands Canon's mirrorless lens offering for macro, wildlife and sports photographers.
And the extenders
Compatible with the RF 100-500mm, 600mm, and 800mm lenses, these RF-mount teleconverters enable users to extend their reach with minimal impact on image quality. They are dust- and moisture resistant and take up minimal space in your bag, giving you multiple lenses without weighing you down.