The new pretender to the 12mp throne is the Canon 450D, a smaller camera, but quite capable. Too small for my hands, If I needed to shoot with it for any extended period of time, I would want to add the battery grip, just for balance and bulk, but nevertheless, a nice camera. Light, small, and easy to get to grips with, the little camera performed quite well under simple conditions. I was also impressed by the 18-55IS lens it comes with as a kit… for the life of me I will never understand IS functions on such a short focal length, but then again, the lens is not aimed at a user like me, but rather, the new parents, shooting baby in lowlight conditions, and getting acceptable images for the album or screensavers.
Why I wanted to check out this camera, is to use it as a POV or Point-of-View camera (and, I must confess, a perfect use for the IS lens…) It's light, with hunks of megapixels, so it's perfect to strap to a bicycle frame, or car bull-bar, or chest harness, with a wireless Eye-Fi card transmitting images back to the Macbook Pro. It needed to be sharp though, and it needed to have good noise handling, so I started of with the single most important characteristic to test: Noise control in variable light.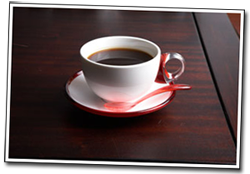 This test was by no means scientific or in a lab environment, but I don't really think it needed to be, I wanted to see how it compared in a typical situation I would have been shooting in, so take it as it was performed.
The Test: Low light is where most sensors fall down, so what we did is just to create a small controlled setup, with a single sidelight (a 800watt strobe + Umbrella) For contrast, and just because we are nasty, we used a white porcelain cup on a dark wood and leather background. We set the lighting up on f/10, and shot two sets of images, one 1/3 underexposed, at f/11 and one 1/3 overexposed at f/9. All images were shot in RAW, and converted "as shot" in CaptureONE v4 (therefore you might see small changes in colour as we allowed the cameras to run auto white balance)
The test was done at Outdoor Photo (http://www.outdoorphoto.co.za) and was initially between the Canon 5D and Canon 450D. Because the guys at ODP drink too much coffee, we ended up shooting a Canon 1DsmkIII and Nikon D3 as well! The Canons all used the same 24-70 f/2.8 L as a test lens,  and the Nikon was equipped with a 70-200 f/2.8 (closest thing we had on hand)
Just for kicks, I did the same test using the 18-55 IS kit lens on the 450D as well as another, separate comparison.
---
Results: As can be expected, the 5D full frame sensor gave very good results, with the slight overexposure better than the under-exposed shots. The 450D's smaller sensor did not give good results though. With too much noise in the shadow areas to be usable as a full 12mp image, and the underexposed shot almost equal to the ISO400 type of noise on the 5D
ISO100, f/9: Results – 100% crops (Nikon base working ISO is ISO200)
(The 1DsmkIII looks like noise, but that is actually the texture of the cup starting to show!)
 Canon EOS 450D
ISO100, f/9
Canon EOS 5D
ISO100, f/9
 
 
 Canon EOS 1DsmkIII
ISO100, f/9
 Nikon D3
ISO200, f/11
ISO100, f/11: Results – 100% crops (Nikon base working ISO is ISO200)
Canon EOS 450D
ISO100, f/11
Canon EOS 5D
ISO100, f/11
 
 
 Canon EOS 1DsmkIII
ISO100, f/11
 Nikon D3
ISO200, f/16
The ISO400 results were more or less exactly what we expected after seeing the ISO100 results…
ISO400 Results – 100% crops
Canon EOS 450D
ISO400, f/16
Canon EOS 5D
ISO400, f/16
 
---
The noise control on RAW is much better than JPG, but still not as good as would have liked it to be. The smaller sensor size really shows between the two cameras, and to remove noise generated you need to resize the image down to almost 8mp to get a usable image for stock, with little or no room for error if you underexpose… I would like to see how it competes with a 350D or 400D in this regard.
Something else we noticed is that the 450D did not give us as sharp images with the 24-70 lens, better results were achieved on the 18-55mm IS lens that comes with as a kit, which was surprising to me. I have read similar reports about cropped sensors vs full frame, but have never really seen it in action. Knowing how sharp my 24-70mm f/2.8 L lens is, I redid the shoot, simply because I thought my focusing is off. Both times, exactly the same result. At some point I will have to do this test on a resolution chart to be more exact, but from general use, this is the feeling I got.
So… Is this a bad camera? Absolutely not! It's a great little camera, but you shouldn't expect a sub $1000 camera to compete with $2000-$6000 kit… there is actually a reason why they are more expensive, and you can actually see it in the way we shoot and edit.
Also, if you are shooting for memories, and camera clubs, and the odd print and enlargement, this little camera will be a good companion. For myself and my more commercial shoots and requirements, I have decided to give it a miss. Maybe my Full Frame sensors have just spoiled me over the last few years…
About the other two cameras…
This was the first time I have shot with either the D3 Nikon or the 1DsmkIII Canon, and my first impressions were as follows:
Nikon D3 with 70-200 f/2.8: Wow… soo many buttons! It took me (and some kindly fellows) 15 minutes to get rid of the auto ISO function to do the test… I am definitely not intel… intell.. entellig… hmmm… smart enough to use a Nikon!
It's a nice camera, sits well in the hand, heavy and robust and shoots like a firecracker on steroids! Even at ISO200 the noise control was amazingly smooth and impressive. I didn't like the balance with the 70-200mm lens though, it seemed "top heavy" but I think that is just because of the way I have been shooting, being used to the canon's. The auto white balance was definitely on the cooler side, not badly so, but definitely more neutral.
Canon 1DsmkIII with 135mm f/2.8 L: Woah!!! As you put it down, your hand immediately reaches for your wallet (that's why I left mine at home!) It's a bit lighter that the mkII, and therefore feels smaller in your hands. Still very rough and rugged though, to the extent that the 5D feels "plastic" after playing with the 1-series flagship.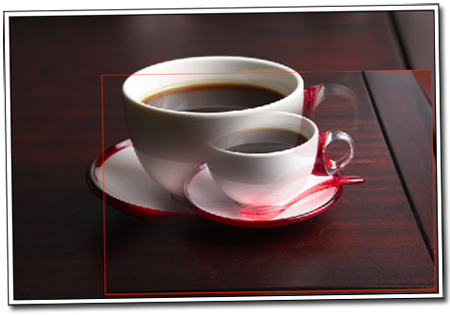 This beast has almost double the pixels than any of the other cameras used on the day, and originally I was disappointed by the amount of monochromatic noise we were seeing, until, on closer inspection, I realized that the "noise" was actually the texture on the cup! It's true what they say, the more the quality improves of these cameras, the more editing time you will be spending on removing blemishes on your subjects and objects you are shooting.
The image to the left shows the difference in image size between the 1DsmkIII and the Canon 5D, 450D and Nikon D3.
Size maybe doesn't matter, but there is a lot of that size to go around, and I would pretty much bet any money that once you have tasted the megapixels, it will be very hard to go back to anything else!
For more info and comments about this article and impromptu usability test, please visit the Outdoor Photo Forum
---
by Sean Nel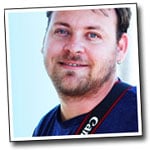 ---
All images by Sean Nel
Cameras and Coffee provided by Outdoorphoto
Studio Lighting via AlienBees 800watt strobe
The post Canon 450D vs Canon 5D – Noise Control appeared first on ODP Magazine.