I have a few Benro tripods, both carbon fibre and aluminium, and for the price, it's hard to beat what you get in a Benro, so when I unpacked the new video head, I was quite eager to put it through its paces!
Now if you know video heads, you pretty much know every feature that is on the Benro. Slightly smaller than the old Manfrotto 501 and bigger than & with more features than a Manfrotto 701, it's not too big and not too small. Let me get into details.
The head is heavy and solid. The one I had is blue anodized so it looked quite funky. I didn't want to throw it around too much, so I am not sure how hard wearing the finish is, but my other Benro heads (I have four or five!) handle punishment well so I am pretty sure this one will do also.
The head has a levelling base, so it can be used on any standard tripod. I prefer the larger bases with the shaft protruding through the head and adjustable from between the legs, but this works just as well (especially well if you want to use the head on clamps or other mounting bases!)
There is the required spirit level or bubble and it has a built in light for low light work. Press and the light goes on for a few seconds. Then the control arm is extendable and can rotate, and as standard, can be mounted left or right. There is some pretty chunky teeth on the gears for the arm mounting point, ensuring absolutely no play on the arm once it's been tightened up.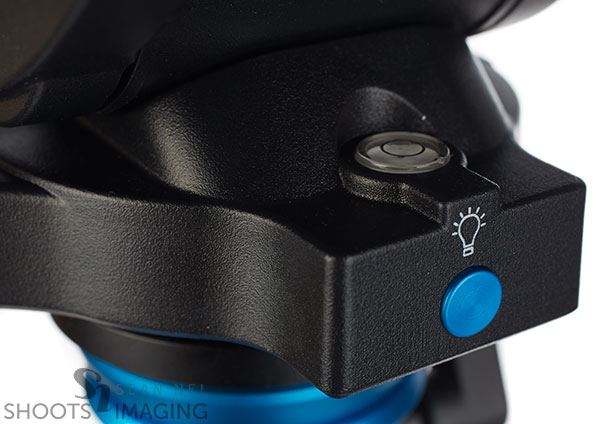 The quick release plate has a safety catch so that it can't just slide out if loosened. You have to press another button, to get it off the tripod. I can't tell you how many of my assistants have quietly thanked God and engineers for this feature! All good, so far.
Now… On to head movement.
The head is very smooth. Will it stay smooth? I can't say, but I have no reason to believe it won't. My original Benro head has been fought in the rain, fallen in a dam, and has been soaked in milk (if you follow our "behind the scenes" videos, you will know why!)
The head has a basic lock/tension/release for panning – nothing too fancy there. Vertical movement has a 4 option spring tension setting knob that puts various amounts of tension on vertical (up and down) movement – aggressive, to loose, to none. This is quite handy to take the jerkiness out of slightly less than perfect pans. Not everybody likes this, but I have found that it works pretty well.
In Use.
It works exactly as advertised. No hiccups, no surprises. It works. Just like I want my things to work.
Nothing finicky or dodgy. I have deadlines and time restrictions, so I just want it up and running with the absolute minimum fuss!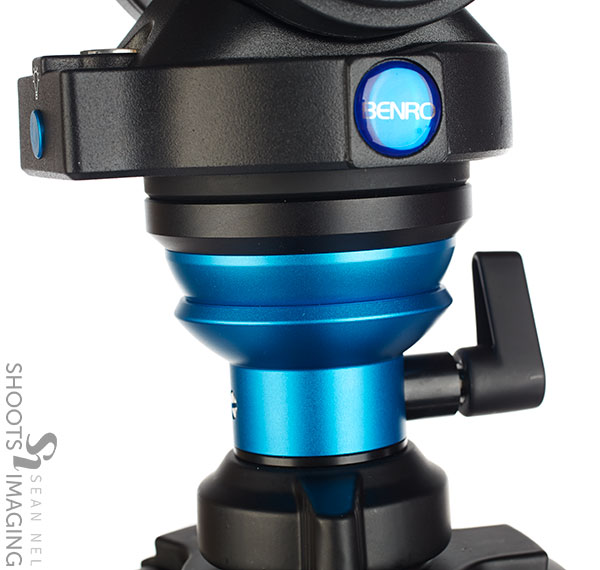 As for the legs that came in the kit. Not my favourite setup. The nice thing about standard video legs is that their clip locks face down. So generally to get a fairly level setup, you undo all the clips, and drop the legs or pick up the head before you open them. This means your setup is more or less level, just a quick push down and the legs are locked in place, open and level.
With the standard clip locks, like a standard photo tripod, the clips lock sideways. Not a major pain, but just not as fast, especially if you have to move around a lot.
That said, with the disadvantage comes an advantage of legs that can extend further out, so on really uneven places, one leg can go out almost horizontal while the others can be at different angles. A major benefit in difficult areas!
And that is why I have a set of legs for both scenarios and bring what I am likely to shoot on the day.
All in all I like these and will suggest them to my more budget conscious students and associates.