"People always want to know the secret behind my magical photos. Well friends it is a no-brainer – it is ME! Just kidding… I will share my secret recipe for creating beautiful content on my many adventures. It is not a secret, to be honest, as my magic to create beautiful content starts with Outdoorphoto."
Taking the perfect photo with your smartphone can be a mission, especially if the model in front of the lens is a pet. Even more so if the size of the pet is a little Chihuahua floof like Mr Miyagee. Small subjects moving around can be quite tricky to photograph and is always a challenge when it comes to taking photos with products.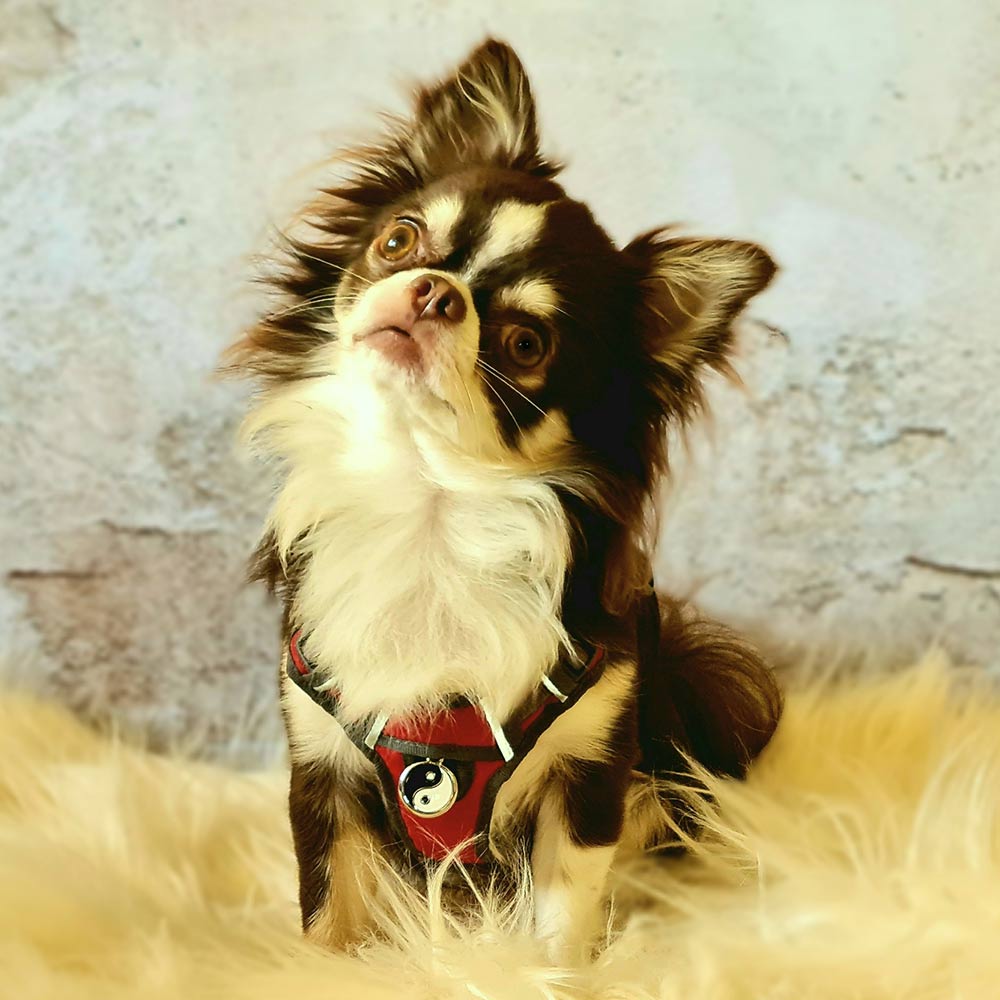 Large tripods can seem to overpower me. To say it plainly, I tend to get lost in the picture. Working and learning from the best photographers, I have seen how they always tend to focus on taking photos of me on my level… right down low and on the ground. This type of focus makes me look larger than life (I love it) and keeps the focus on the story I am telling in the photo. 
But on the same note, have you ever seen a human on their knees or tummy trying to steady a camera in one hand and hold treats in the other while balancing a toy on their head and making silly noises..?  I tell you, it's quite a sight and super hilarious to say the least!
With me and my human being influencers to many brands, it is a full-time job taking high-quality photographs and creating unique content with our smartphone. Why a smartphone you ask? Well, it is the most portable, compact and suited camera to take on our many adventures. When it comes to taking quality images that are blur-free, investing in the small Kodak Smartphone Tripod and Smartphone Portrait light can take your photos to the next level. A tripod and portrait selfie-light will make your photo more accurate and there will be fewer surprises when you look at your image on the screen later. 
Made of high-quality material, this cute and compact smartphone tripod is equipped with a Bluetooth remote shutter for fast shooting. It is my all-time favourite must-have essential on my many adventures. The remote shutter works up to a range of 10m… maybe more, but I am super small so we usually use the remote shutter at a 2-5m distance. I love the fact that the Kodak smartphone accessories are small, lightweight, compact and very portable. You can simply store it in your bag to always be ready for capturing those special moments. I am never without my mini tripod and portrait light. 
The best part is even I can use the remote shutter with just a touch of my paw. It just takes a few quick steps to connect with your smartphone and is very easy to use. With Kodak smartphone accessories there's simply no need for your human to be crawling on all fours on the floor. No more shaky pics and the plus – free human hands to keep those yummy treats flowing. 
These nifty smartphone accessories are my kind of toys… They not only look smart with the signature yellow and black detail, but the Kodak Smartphone Tripod is just the right height to take photos on my mini-me level and can be adjusted to take photos and videos in portrait or landscape mode. The Portrait Selfie Light clips on your smartphone hassle-free, with different light settings that are not too bright or harsh to suit different styles and softens photos creating the perfect mood with every take. I love the fact that the portrait light's clip is lined with durable soft rubber to protect your smartphone from damage. These gadgets are not just pretty to look at, they really are made with quality, durability and style in mind. Small but MIGHTY just like me! 
So if your human is part of the "pupparazzi" team like mine, then maybe it's time to think about investing in the Kodak smartphone accessories from Outdoorphoto. I know I am smitten with these accessories and I am sure you would be too. 
To complete your very own smartphone photography setup, hop on over to our online shop to see what's on offer. Outdoorphoto will always have phone camera accessories to up your photography game. With this gadget, you could become a real "furrtographer" after all.